The Museum of the Second World War in Gdańsk, Poland is a place of a historic journey in time to the period of experience of the difficult war times, presented from the perspective of civilians and soldiers of European nations. In the implementation of the historic showcase of the city, more than 1500 m2 of facade and window glass was used with selective glass and rotulas to assemble glazings in the system of point fixing, manufactured by PRESS GLASS.
The new museum means modern and historic architecture – located against the backdrop of a historical surrounding – a showcase of the city and the region. In accordance with the design of the Architectonic Studio Kwadrat, the building is embedded in the ground down to about 18 m. The aboveground part forms a building similar to an inclined prism– a tower about 40 m high. The authors of the design decided to apply numerous glazing elements that make the museum unique and provide sufficient day light.
While admiring the Museum of the Second World War, attention should be paid to the uniform red colour of the building facade and of the surrounding.  The dominant red is broken in a subtle manner with the glazed front facade of the museum which along with a skylight optically extend the face of the building and make it looks light.  For the structure of the glazed facade and the skylight, we provided glazed units with solar control high selectivity glass and parameters close to 60/30. The glass is characterised with light transmittance of about 60% and low total solar energy transmittance of about 30%. Such glass parameters ensure high comfort of use – the inside of the museum is reached by most of sun light – while the interior does not overheat. The glass manufactured by PRESS GLASS with built-in fixing elements in the system of point fixing has been used to construct the glazed connector between the museum and the administrative building. Our glass was also used in the window joinery in the administrative building and to glaze the patio.
The central point of the interior of the museum is composed of the central exhibition covering almost 5 thousand square metres in the underground part of the building.  This is the world's largest historic exhibition of the type. In order to facilitate visits, the exhibition was split into 18 thematic sections where the visitors can see 2 thousand items.
The building is used not only for exhibition purposes.  Inside the building, at the "0" level there is a library with a reading room as well as educational and conference rooms.  The top level is occupied by a coffee shop and a restaurant with a glazed skylight that open the building onto a panorama of Gdańsk.
The museum was officially opened to visitors on  March 23, 2017.
You can see more photos of the building here or in our Pinterest profile.
We also invite you to visit the website of the museum http://www.muzeum1939.pl/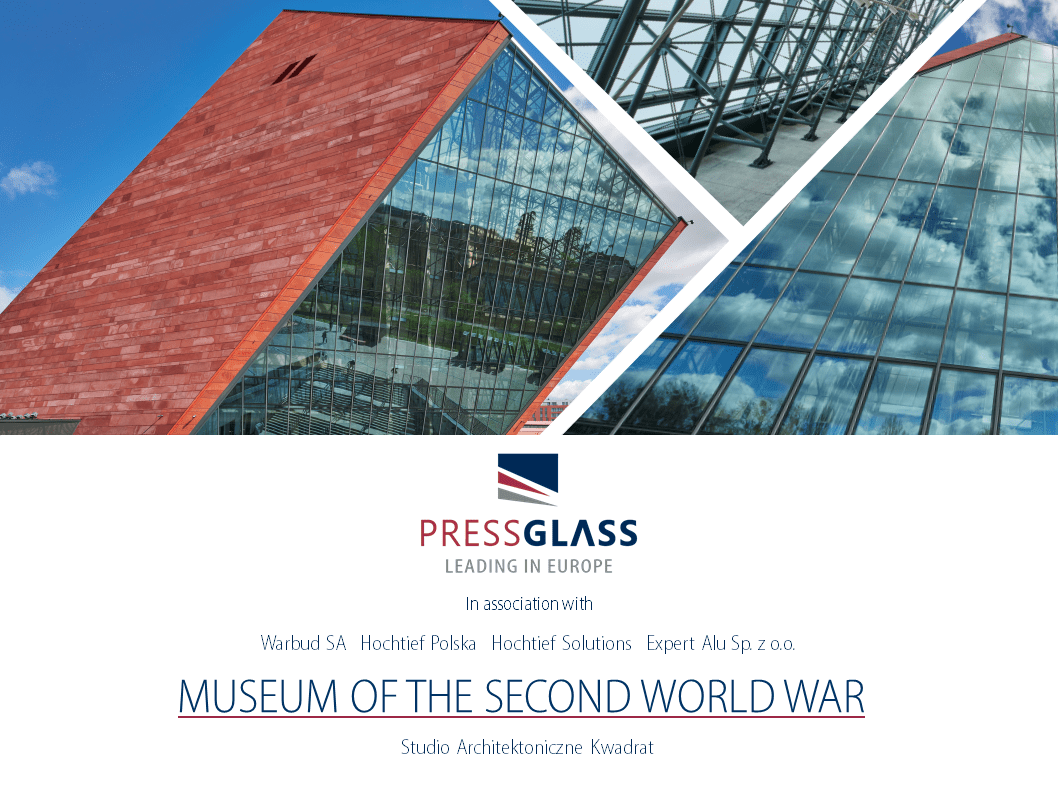 https://www.pressglass.com/wp-content/uploads/2017/07/iiws-www-napis-en.png
402
1030
Aleksandra Rzeszutko
https://www.pressglass.com/wp-content/uploads/2015/01/logo_pressglass.png
Aleksandra Rzeszutko
2017-07-28 14:13:17
2018-07-19 10:24:19
New museum in Gdańsk – glazed modernity and timeless message