The glass façade prepared with the use of innovative technologies can give buildings a completely unique character and bring even the boldest architectural ideas to life. Våghuset – a business centre in Gothenburg, Sweden, where one side of the building is covered with a glass façade in the shape of repetitive sea waves is a perfect example of such solution. For the purposes of this project, we delivered a total of over 3.3 thousand m2 of glass, of which over 1 thousand m2 of cylindrically curved glass panes. Staticus was the main contractor doing external glazing.
The investment is a part of the more complex Masthuggskajen urban development project, which aims to change the image of Gothenburg city centre as well as double its area. One of the key elements of the plan is the Våghuset, a newly constructed 12-storey building located on the city's most important square – Järntorget.
Built based on a design prepared by the respected architectural studio White Arkitekter, the business centre is distinguished by glazing with rounded edges. The glass façade facing east shows its spectacular form in the shape of sea waves. Such a structure clearly refers to Gothenburg's port history and character. Thanks to the shiny surface of the façade, the building presents itself in a completely unique manner, and Våghuset is also becoming one of the most interesting architectural projects in recent years in Europe.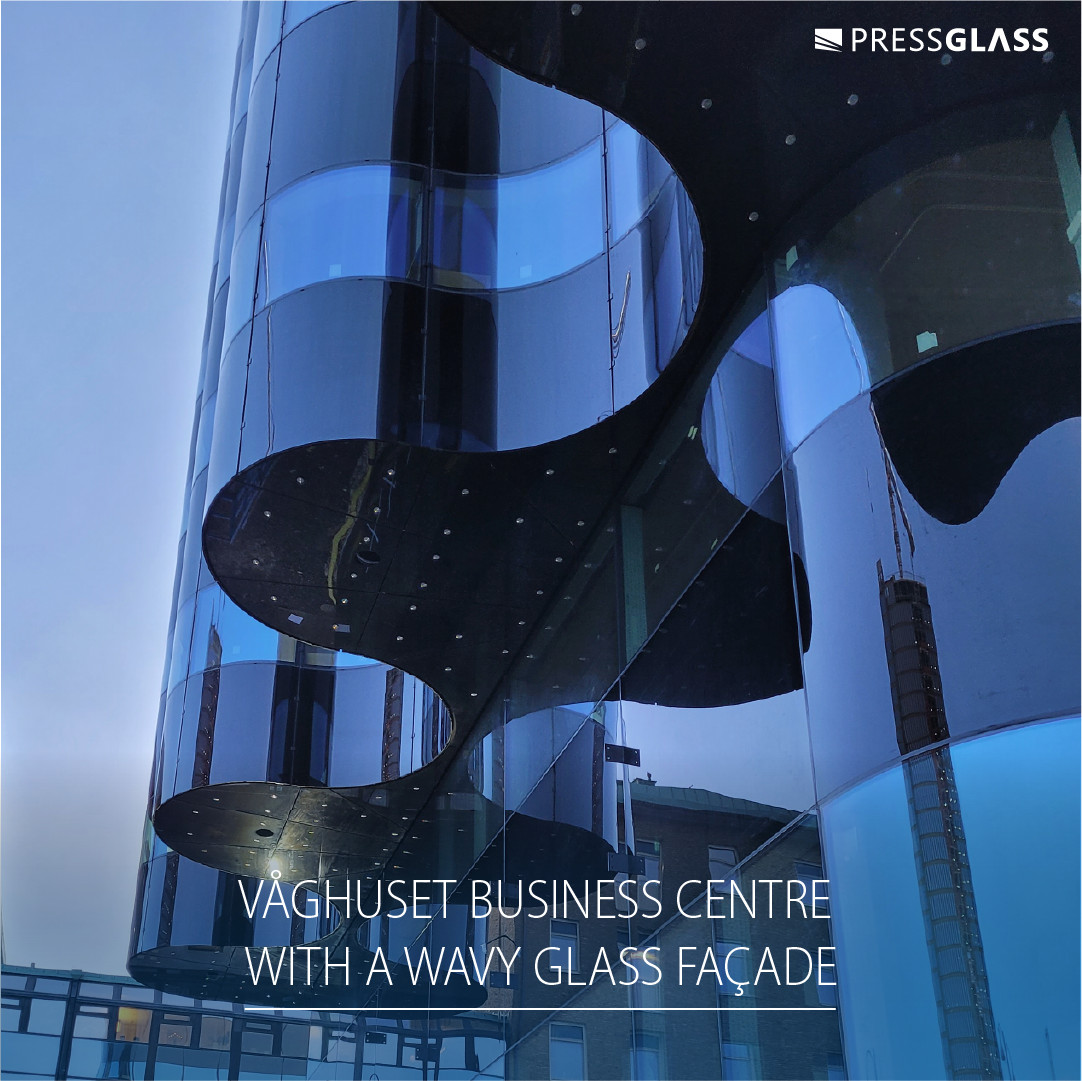 As part of the cooperation with our partner, the Lithuanian company Staticus, we have delivered over 3.3 thousand m2 of glass for this investment. A large part (over 1 thousand m2) consisted of curved glass panes designed especially for the unique façade in the shape of sea waves. Furthermore, the selection of the appropriate tinted glass for the non-transparent elements of the façade allowed keeping the same optical properties in every part of the façade.
The project required the use of carefully selected materials and extreme precision to achieve the effect of repeatable waves. As a result, a completely unique design was achieved – an object which, thanks to its wavy façade, will be a characteristic urban element of Gothenburg.
The official opening of the Våghuset business centre is scheduled for 2022.
Detailed information on the technology of cylindrically curved glass can be found here.
Facade contractor: Staticus
Photos thanks to Staticus.
https://www.pressglass.com/wp-content/uploads/2022/02/Vaghuset-thumb.jpg
733
1920
MP
https://www.pressglass.com/wp-content/uploads/2015/01/logo_pressglass.png
MP
2022-02-11 09:51:29
2023-07-11 12:46:54
Våghuset Business Centre with a wavy glass façade