The Run and Support action is gaining momentum with each month. In addition to group running competitions, individual employees appear at the start lines of other sports events more and more often. Therefore, the group of supporters of the Run and Support action is expanding to include new faces.
Let us sum up the October and November individual competitions of PRESSS GLASS employees.
During that time, 12 employees represented the Run and Support action in 12 different sports events organized in the south-western, central and northern parts of Poland.
Employees were covering varied distances during the competitions: from 5 to as much as 42 km. The longest distance was covered during the PKO Silesia Marathon.
The 25th Independence Race in Czechowice-Dziedzice where 4 PRESS GLASS employees covered the distance of 10 km enjoyed the greatest popularity.
Some of the more difficult competitions included the Pruszcz Independence Race (10 km long cross-country race) and the 2nd Siemianowice Nighthawks (9 km long night race).
Participants in the action covered more than 280 km in total, raising PLN 1100 by running during these two months.
From the beginning of the year to the end of November, PRESS GLASS employees have raised PLN 4175 by running. As of April this year, employees took part in 39 races organized in 33 different cities in Poland. The distance covered during the individual races exceeded 1310 km.
We are happy that the zeal for supporting those in need is as great as ever among our employees. By joining the Run and Support action we do not only take care of our physical fitness but also, in particular, share our hearts with people in need. We encourage other PRESS GLASS employees to take part in the Run and support action.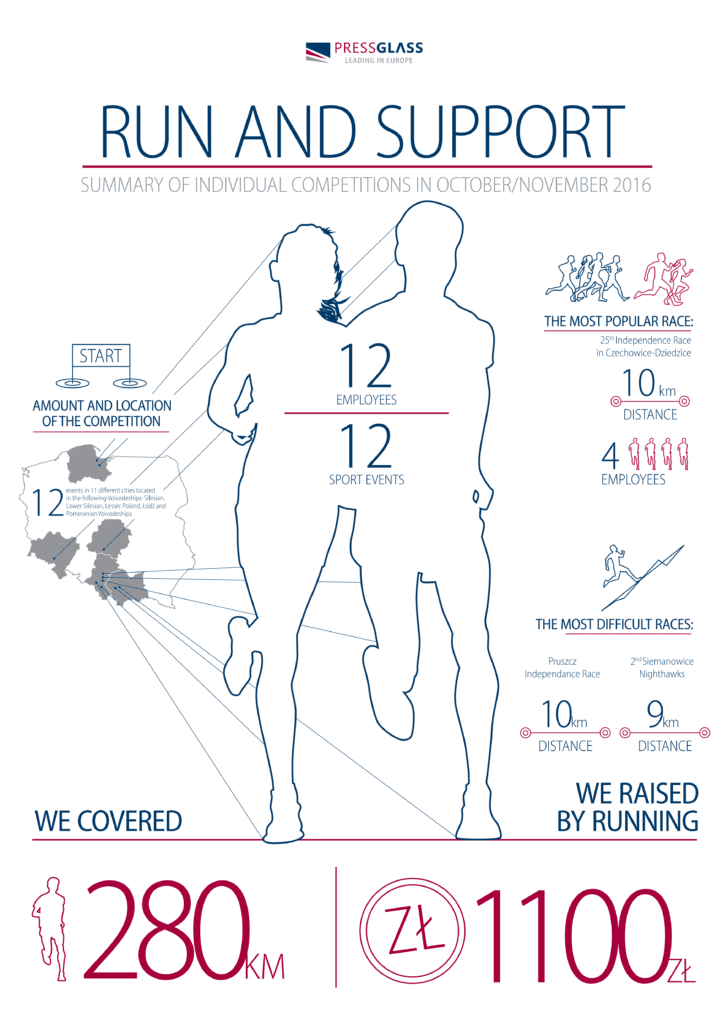 https://www.pressglass.com/wp-content/uploads/2016/12/INFO_BIEGAMY_WSPIERAMY_PAZDZIERNIK_LISTOPAD_1030x402px_EN.png
402
1030
Aleksandra Rzeszutko
https://www.pressglass.com/wp-content/uploads/2015/01/logo_pressglass.png
Aleksandra Rzeszutko
2016-12-06 09:44:06
2020-02-05 10:19:05
Summary of individual competitions in October/November 2016 for the Run and support action