On the 1st of December 2019 a 16-person "Sport and Support" team, under coordinator's supervision, took part in the biggest sports event in this part of Europe – 39th Valencia Marathon in Spain. Participants raised 3376 PLN and the money was donated to the "Dar Serca" Hospice in Częstochowa (Poland).
It is worth mentioning that employees participated in double struggles – "Sport and Support" organiser made it possible to count the kilometres covered in general statistics of "Sport and Support" campaign for all employees, who participated in the campaign. In this way the money raised (more than 8000 PLN) was divided as requested by the employees and donated to chosen beneficiaries.
"Bike to Work" competition lasted from the 8th of April till the 29th of September 2019. 54 teams took part in this edition – companies, which are commercially and locally associated with Tczew. The contest has gained new rules – not only rides from the place of residence to work and returns were included in the team statistics, but also recreational rides.
According to the statistics from the organiser "contest's participants covered nearly 350000 km while riding 55000 times, including 38500 times to/from work. It is like riding around the Earth 9 times. Thanks to the competition we saved 87300 kg of carbon dioxide!" (source – http://www.rower.tczew.pl/koniec-iii-edycji-konkursu-rowerem-do-pracy/)
PRESS GLASS employees, who were additionally representing "Sport and Support" campaign, donated the money raised to the following beneficiaries:
– The Shelter for Homeless Animals in Tczew
– WOŚP Foundation (the Great Orchestra of Christmas Charity)
– Aleksander Sośnicki ("Jaś i Małgosia" Foundation)
– Karol Wojtaszek ("Kawałek Nieba" Foundation)
– Maciej Czech ("Zdążyć z pomocą" Foundation)
– Wiktoria Rebell ("Zdążyć z pomocą" Foundation)
– Amelia Wróblewska ("Zdążyć z pomocą" Foundation)
– The Polish Association for Persons with Intellectual Disability in Tczew.
We would like to thank Press Glass employees in Tczew for representing our company and "Sport and Support" campaign with dignity as a part of the 3rd edition of "Bike to Work" competition.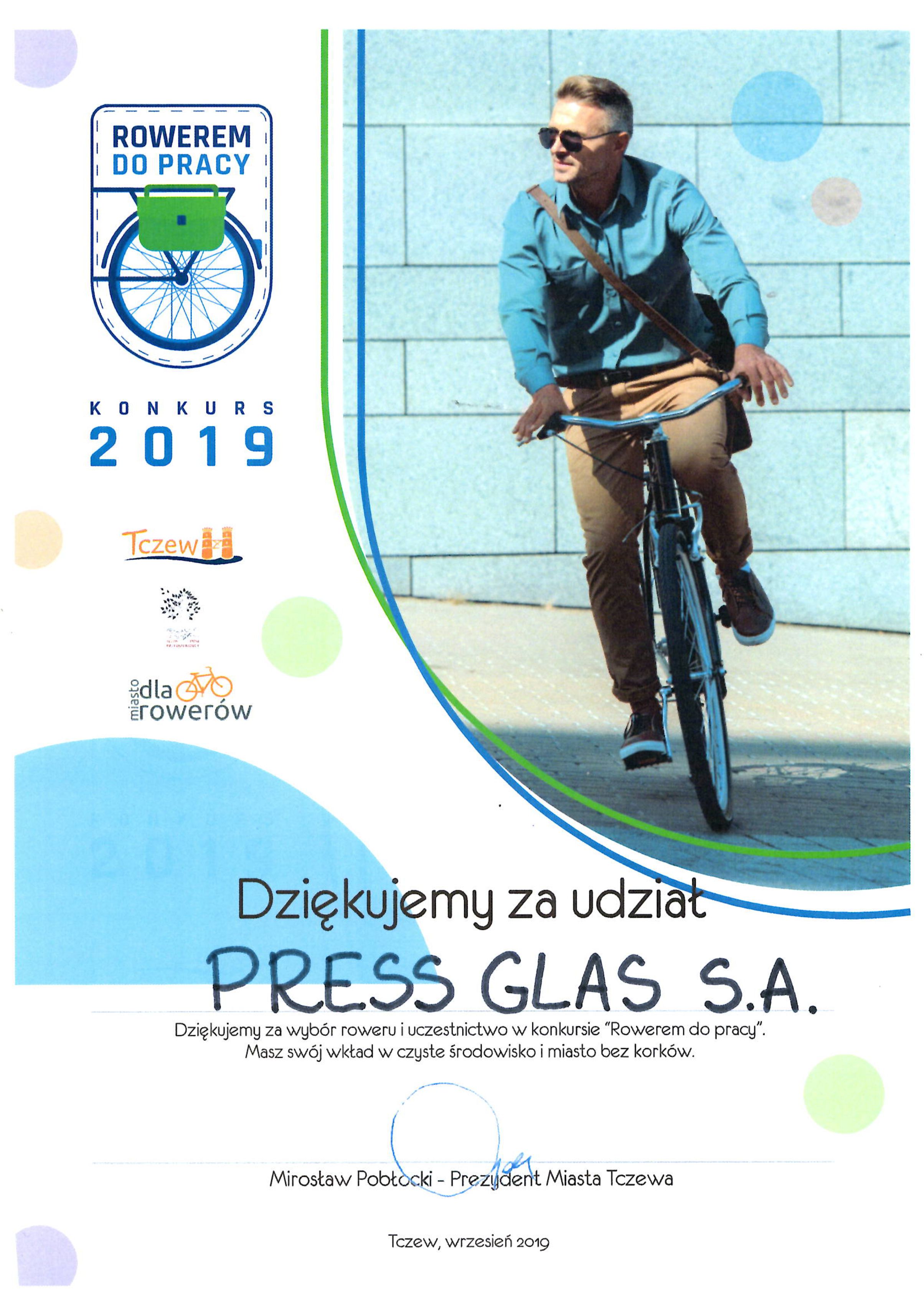 https://www.pressglass.com/wp-content/uploads/2020/02/Bike-to-work-competition-2019.jpg
402
1030
Aleksandra Rzeszutko
https://www.pressglass.com/wp-content/uploads/2015/01/logo_pressglass.png
Aleksandra Rzeszutko
2019-12-20 14:31:10
2020-02-10 14:53:03
PRESS GLASS employees in Tczew were leaders of the 3rd edition of "Bike to Work" competition