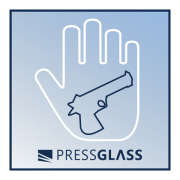 Protection against gun shots
Employees of banks or public utility buildings in which there are particularly valuable items or shares to be found, government buildings, as well as particularly important military and political buildings which are under threat of terrorist attacks can feel safe if the partition walls that are often made of glass by necessity protect them against gunshots. This function is fulfilled by laminated glass of asymmetrical construction. PRESS GLASS offers special types of glass which protect against shots from hand guns or automatic weapons. All glass units on offer possess the appropriate certification. These certificates are issued on an individual basis for each type of glass unit produced.
The market offer of bullet-proof glass is available on request by sending an e-mail to our Head Office.
In order to make contact with the sales department please go to Contact menu.