The Tczew production plant of Press-Glas is planning increases in production and employment figures over the coming years. Local press appreciates such activity and is helping to form a positive image of Press-Glas in the Pomeranian region. We welcome you to learn of the contents of a press article placed in the newspaper "Dziennik Baltycki" dated from April 2005.
Translation of the article.
Tczew. Spring is a time of intensive work for Press-Glas
Workers required
About the company
Press-Glas as one of the few producers of double glazing glass in Poland possesses the ISO 9001:2000 Certificate of Quality. The first company of Press-Glas was founded near Czêstochowa in 1992. A few years later another factory was established in Tychy. The market in the north of the country started to really expand, so it became inevitable that the third company would be set up in this region. It commenced operations in Rokitka in the district of Tczew last year.
Press-Glas company which operates in the Special Economic Zone of Pomerania in the district of Tczew is seeking new employees. The factory produces double glazed glass and a range of structural glazing. The glass which comes off the production lines here in Press-Glas is not only sold in Poland but to other countries also.
The company has operated in Rokitka since August of last year. It has production halls while also an office and administrative complex at its disposal. At present the factory is equipped with automatic lines for glazing.
– "Our company is constantly developing" says Mr. Tomasz Wozowicz the regional director of Press-Glas. – "This investment is not fully complete. We are currently buying other machines to further add to our facilities".
It is foreseen that within two years the factory will be totally mechanized and the whole surface area will be in use.
Up to now the total employment figure in Press-Glas was over 100 people. These are mainly inhabitants of the area of Tczew. Spring is a time of intensive work, so new employees are currently sought after to serve the production lines.
– "We are looking for reliable people who want to work" says Mr. Tomasz Wozowicz. – "Our production lines are specific and therefore every new person must first of all learn the work specifications. In this sector it is difficult to find experienced workers, so we are not relying on that. People who are employed by us gain vital professional experience in a working environment".
Not only men but women too have the opportunity to get work in Press-Glas. The work here is currently in two shifts, although the company is preparing a three-shift programme.
– "We are very satisfied with our current staff"- emphasizes Tomasz Wozowicz – "We are not planning any changes".
Source: Anna Adamczyk, Dziennik Baltycki, April 2005.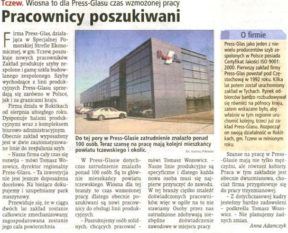 https://www.pressglass.com/wp-content/uploads/2015/01/logo_pressglass.png
0
0
Gerard Plaze
https://www.pressglass.com/wp-content/uploads/2015/01/logo_pressglass.png
Gerard Plaze
2005-04-13 22:43:22
2017-01-12 22:43:38
Press-Glas company is looking for reliable workers.